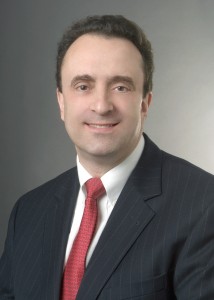 Matthew F. Kadish is an attorney and shareholder in the Cleveland law firm of Kadish, Hinkel & Weibel.  He has been a member and director of the SBCA for many years, and its CEO since 2012.   Prior to that, he served as the SBCA's Vice-President (Legislation), a post which he still fills.    In that capacity, he testified in 2007 at the invitation of the U.S. Senate Finance Committee to advocate tax relief for small businesses.
Matt grew up in Kent, Ohio and attended Williams College, where he majored in French and studied abroad.   Matt then received his law degree (J.D. cum laude) from Case Western Reserve University School of Law and an LL.M. in Taxation from New York University School of Law.  He served as an attorney-advisor to Judge Herbert L. Chabot of the U.S. Tax Court.   Prior to returning to Cleveland, he practiced law in Honolulu, Hawaii, and Washington, D.C.
Matt speaks nationally on various tax- and estate-planning related topics.  He is a Fellow of the American College of Trust and Estate Counsel, and is listed in Best Lawyers in America (Tax – both Litigation & Practice, and Trusts & Estates, and as its 2013 Cleveland Tax Law "Lawyer of the Year") and as an Ohio Super Lawyer (Tax).   The Estate Planning Council of Cleveland has honored him with its Distinguished Estate Planner Award (2012) and Exceptional Service Award (2010).    Matt's private legal practice covers a wide range of tax-related areas, including estate planning and business succession, foreign bank account reporting (FBAR) and related issues, entity taxation, exempt organizations, and representation of clients before the Internal Revenue Service and U.S. Tax Court.
Matt is married to Barb Kadish, who he describes as a "recovering accountant,"  and they have two children, Mel and Zach.   Outside of work, Matt is an amateur singer-songwriter, and remains active on the Board of Directors and performing (now going on 35 years) with People International, Inc., a national peer-mentoring performing arts organization.
In recent years, Matt has increasingly focused his public speaking on Washington D.C. political and legislative issues.   So what advice would he share?  "Make sure your voice is heard, because whether you believe it or not, Washington is listening.  And for small businesses and those representing them (or their owners), join and get active in the SBCA, because it's your most effective voice in Washington."