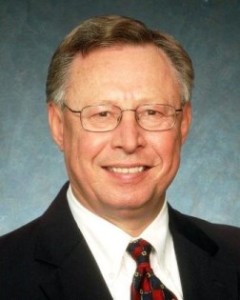 Alson R. Martin is a partner with Lathrop & Gage LLP law firm in its Overland Park, Kansas (suburban Kansas City) office. Al has been a member and a director of the SBCA for may years, and its President since 1994. Al first found out about the SBCA through Mort Harris of Columbus, Georgia, the SBCA's founder and first president, when Mort was in Kansas City giving a speech. Al then became an SBCA member and participated on the SBCA legal advisory board before being elected to its board of directors.
Al grew up in Kansas, attended the University of Kansas, where he was a Summerfield Scholar, Phi Beta Kappa, and student body president. Al then went to New York University law school on a Root-Tilden scholarship and was an editor of its Law Review. After a stint in the Navy's Judge Advocate Gen. Corps, Al finished up a postgraduate tax law degree at NYU in the fall of
1976 and returned to the Kansas City area to practice law.
Al is married to Yona Martin and has 3 sons and 3 grandsons (so far). Al and Yona are avid fans of Kansas University basketball and go to most games. Al did not start playing golf until age 50,  but when a client (who had never played either) built a golf course, they learned together and have played frequently ever since.
Al has long had an interest in politics and practical economic issues. As a student, he was student body president in junior high and college, president of his high school senior class and his scholarship class in law school. As a result of all of the committee meetings he attended as student body president at Kansas University, he decided that any occupation with lots of committee meetings was not his cup of tea. Nevertheless, he remains very interested in politics and current issues because of their practical and profound impact upon our communities, states and nation. He was raised in a Democratic family, is a registered Republican, but, as a practical matter, is an independent because he does not consistently vote for candidates in one party or the other.
As a way to help promote SBCA's legislative priorities and expand its impact, Al was a delegate to the 2006 Saver's Summit, Washington, D.C. and the 1995 White House Conference on Small Business, Washington, D.C. He has testified in Congress regarding federal tax legislation. Additionally, he co-wrote the original Kansas Limited Liability Company Act (third enacted in the U.S.) and was the author (Kansas, second enacted in U.S.) and co-author (Missouri)  IRA/Qualified Plan Shield Statutes, which protect those assets from the claims of creditors. Al has written three books. His most recent is 2014 Healthcare Reform Facts (2d ed. 2014), addressing the issues that employers face in coping with this federal law. He authored Limited Liability Companies and Partnerships (Panel 3d ed. 2011) and co-authored Kansas Corporation Law & Practice (Including Tax Aspects) (5th ed. 2011). Al gives around 10 presentations a year  to professional and business groups on a variety of topics. He has also published numerous articles.
Al loves the SBCA, its interesting and engaged members, and is proud of its many accomplishments and bi-partisan approach to the issues.